Piano & Percussion Duo
Garrett Mendelow, percussionist, and Peter Klimo, piano
Come see Garrett Mendelow, percussionist, and Peter Klimo, piano, perform in a piano percussion duo Monday, April 9. This event is free and open to the public.
Together, Peter Klimo and Garrett Mendelow will team up to present a whirlwind of programs as part of a short East Coast tour. These two young musicians have independently risen in their respective fields, and have gained through performances and competition appearances great international acclaim and demand both in the United States and Europe. This program will appeal to more Western musical sensibilities, with pieces inspired by alternative rock, the avant-garde, and the tango. 
Concert Program:
Double Happiness by Chris Cerrone
Kickin' It - Vincent Ho 
Intermission (10 min)
Impasto - Chris Gendall
Tombeau im Memorium Gerard Grisey by Philippe Hurel
Piazzonore by Alexiej Gerrassimez
Hungarian-American pianist Peter Klimo has been studying piano since the age of nine. A Los Angeles native, he began his piano studies with Vicharini and Rosanna Marzaroli and continued with Dr. Tyler Tom. Peter earned his Bachelor's Degree from the Eastman School of Music studying with Dr. Nelita True, his Master's Degree from the Yale School of Music studying with Peter Frankl, and an Artist Diploma from Texas Christian University with Dr. Tamás Ungár.
 

In November 2014, Peter won 2nd prize in the 10th International Franz Liszt Piano Competition in Utrecht. During the finals, he performed Liszt's Concerto No.1 in E flat major with the Netherlands Radio Philharmonic Orchestra under the baton of James Gaffigan. As a prizewinner of the Liszt Competition, he has embarked on an extensive concert tour, taking him all over the world. As early as the morning after the finals in Utrecht's TivoliVredenburg, he performed in a packed Spiegelzaal in the Concertgebouw Amsterdam, broadcast live on NPO Radio 4.
 
Highlights from 2016 include concerto performances in Seoul, South Korea with Hee-chuhn Choi and the KBS Symphony Orchestra; Los Angeles, California with John Roscigno and the 52nd American Liszt Society Festival Orchestra; Columbus, Georgia with George del Gobbo and the Columbus Symphony Orchestra; and in Budapest, Hungary with Ménesi Gergely and the Liszt Academy Symphony Orchestra.
 
Also a passionate chamber musician, Peter recently toured with the Belenus Quartet in Austria and Holland in 2016. Throughout 2013, he performed Bartók's Sonata for Two Pianos and Percussion at the Kennedy Center in Washington D.C., at Sprague Hall at the Yale School of Music with all members playing from memory, as well as at the Dakota Sky International Piano Festival. He most recently performed the work throughout Holland in 2016 with winners of the International Tromp Percussion Competition. As a lover of art song, he attended the Vancouver International Song Institute in June 2013, won the 2nd place pianist's prize at the Jessie Kniesel Lieder Competition in 2012, and frequently performs song transcriptions in solo recitals. Peter also served as a faculty member for the 2013 inaugural year of the DBS Summer Music Festival in Hong Kong. Peter is currently pursuing his Doctorate of Musical Arts in Performance and Literature at the Eastman School of Music with Dr. Nelita True.
Garrett Mendelow is an up and coming percussionist from the United States. Though his interest in percussion extends to many different facets of the art, he dedicates much time to contemporary percussion performance practices and new music in both solo and chamber settings. He has appeared in national and international venues throughout the United States and Europe, and has also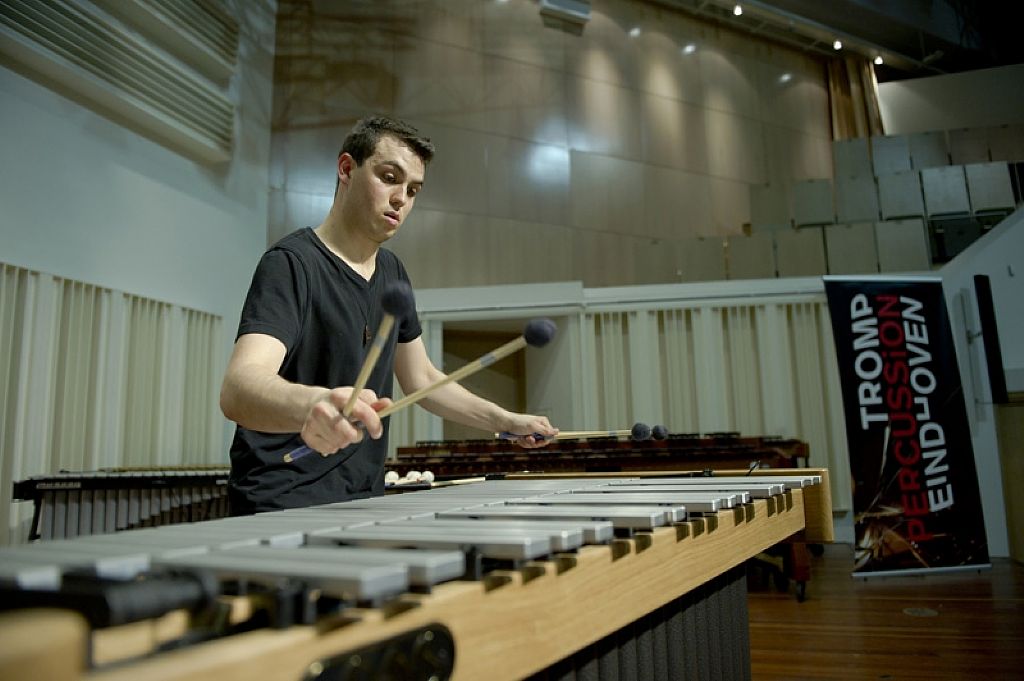 appeared in several music competitions. In 2012, Garrett ventured to the Netherlands for the 2012 Tromp Percussion Competition and won 2 nd Prize and the Youth Jury Prize. He also had the pleasure of premiering a new double percussion concerto by Nico Muhly with world-renowned percussionist Colin Currie, and the Britten Sinfonia during the competition. In September of 2014, Garrett was the only American competitor in the 63rd edition of the ARD Music Competition, and was a semi-finalist.
After receiving his Bachelors Degree in Percussion Performance from the University of Michigan School of Music, Theatre and Dance where he studied with Michael Udow, Joseph Gramley, Ian Ding, Jonathan Ovalle, Brian Jones, and Cary Kocher, he received his Masters Degree at Stony Brook University in New York under the tutelage of Eduardo Leandro. Following studies in New York, Garrett studied with Peter Prommel, Fumito Nunoya, Christian Schoenfeld, Mike Turnbull, Sven Pollkötter, and Arabella Hirner at the Hochschule für Musik Detmold, Germany. Garrett would also like to pay special homage to Dan Desena, Eriko Daimo, and Pius Cheung for teaching and inspiring him in his early development and to Michael Udow who still inspires him to strive for innovation and to be heartily committed to the music he performs. Garrett is currently pursuing his DMA with Anthony Di Sanza under a Paul Collins Distinguished Fellowship.
In addition to solo performances, Garrett is an active collaborator, and has performed with groups extensively in the United States and Europe, as well as Asia, Australia, and New Zealnd. Garrett has also appeared with SO Percussion and Alexandre Esperet for Michale Gordon's Timber. Garrett now frequently performs as a member of the Sound Out Loud Ensemble, and other musicians, ensembles, and art mediums. Garrett is a proud endorser of Innovative Percussion.
Old Cabell Hall is located on the south end of UVA's historic lawn, directly opposite the Rotunda (map). Parking is available in the Central Grounds parking garage on Emmet Street, in the C1 parking lot off McCormick Road, and in the parking lots at the UVA Corner. 
Please call the Music Department at 434.924.3052 for more information.
All events are subject to change. 
This event is supported by the UVa Music Synergies Initiative.