UVA Jazz Ensemble directed by John D'earth
Green Chemistry / Mean Chemistry
February 10, 2018 - 8:00pm
$10/$9 UVA Faculty & Staff/ $5 students/ Free for UVA Students who reserve in advance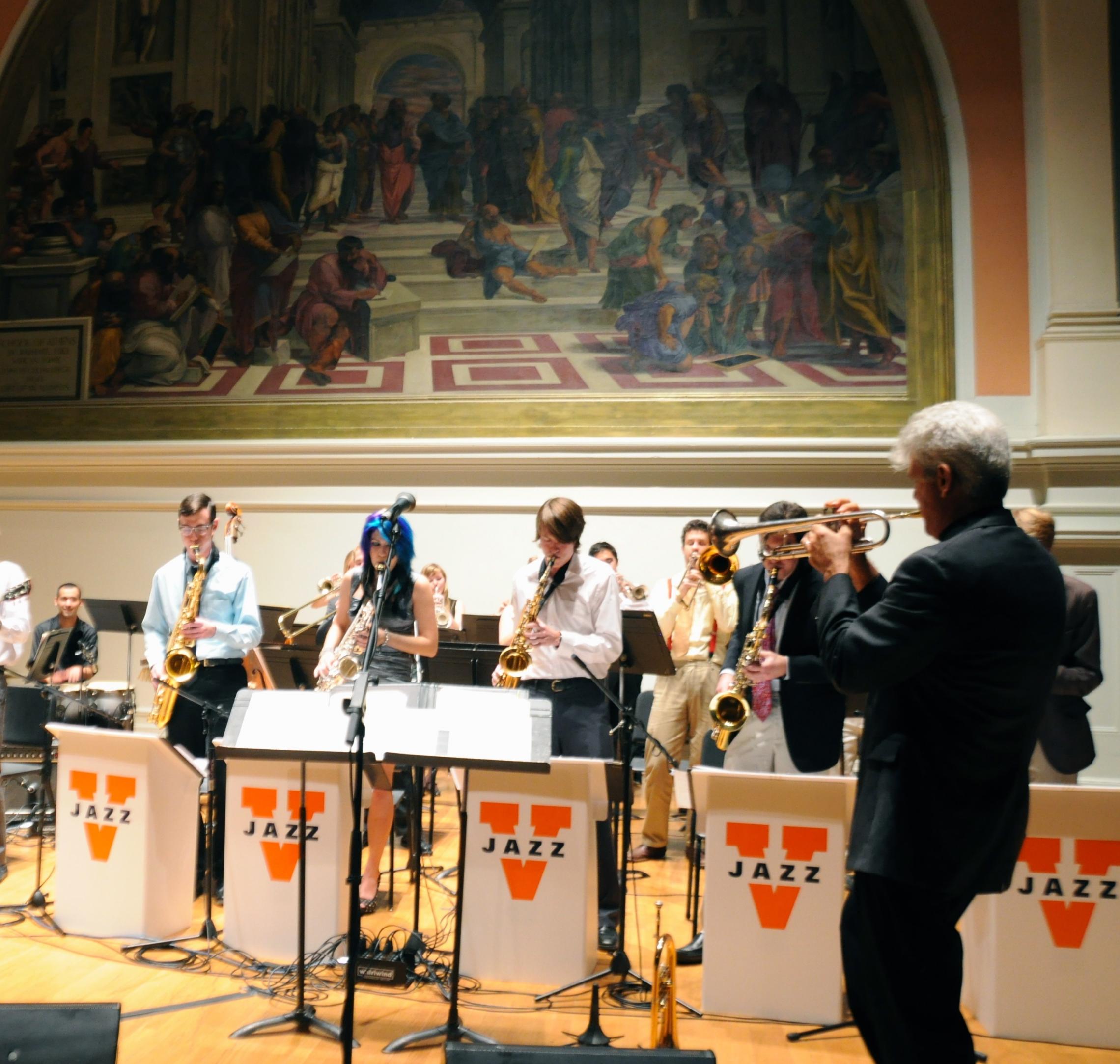 The UVA JAZZ ENSEMBLE presents Green Chemistry/Mean Chemistry with faculty guest artists Robert Jospé, Peter Spaar, Jeff Decker, and establishes new support for Jazz Pedagogy on Saturday, February 10 at 8:00pm in Old Cabell Hall.
Ten years ago the UVA Jazz Ensemble commissioned an extended work from its director, jazz trumpeter and composer John D'earth, entitled, Green Chemistry.  The title is a double-entendre. The five part compositionwas based on a new movement among chemical scientists who work together to reduce the risk and damage that the ubiquity of chemicals in our lives entails. But the title also plays on the "green" or new chemistry between the Jazz Ensemble members and their teachers, the UVA Jazz Performance Faculty.  The piece was set up to feature the performance faculty, in concert, paired with their best students.
The Jazz Ensemble will resurrect the piece for their February 10th concert with guest appearances by three celebrated local musicians and jazz faculty members, Robert Jospé on drums, Peter Spaar on acoustic bass, and Jeff Decker on tenor saxophone.
The Green Chemistry movement believes that chemists should consider human pathology and environmental science when designing chemicals.
"Who knew we had the option of designing chemicals in different ways to manipulate their effect on the environment?  Not I," says D'earth, of his inspiration for the project.  "One of the founders of the Green Chemistry Movement, John Warner, is a musician and felt that chemists should work more as musicians do, collaboratively: chemist should jam together!  He got wind of our concert ten years ago and flew himself here to give a pre-concert talk."
Robert Jospé, Peter Spaar, and Jeff Decker are members of UVA's Freebridge Quintet but they are participating in the February 10th show as more than guest artists.  Due to a generous gift from the parents of one of UVA's most accomplished musical alums, jazz pianist and composer Kait Dunton (2005), the UVA Jazz Performance Program is able to offer more opportunities for jazz students to interact with their teachers through "internal-residencies."  The three guests, who have performed and recorded nationally and internationally, will be able to work with the students during the final week of rehearsals leading up to the concert.  This is far in excess of the of the usual guest artist experience and will have the added benefit of deepening relationships between faculty and students, creating new pathways for learning into the future.
So the "greening" of the jazz program explains "Green Chemistry."  But why "Mean Chemistry," aside from the fact that Decker, Spaar, Jospé, D'earth, and the UVA Jazz Ensemble have all been making some pretty mean music in Charlottesville for many years!
"Green Chemistry/Mean Chemistry" came up because of the social justice concerns that most of us in Charlottesville and at the University now realize are ever-present issues,"
D'earth elaborates: "You are either 'part of the problem or part of the solution' and, personally, I intend to continually remind myself that jazz, the music we play, which is African-American in origin, is opposed, in its fundamental character, to injustice of any kind.  Jazz music is actually about justice, equality, and freedom from fear and hate.  It is also a call-to-arms in the battle for human joy.  This fight for equality and civility must never go out of style. I want to remember the fact that every time we play from the heart we are calling out and acknowledging the ignorance and injustices that constrain us, both internally and externally.  Injustice occurs through many avenues.  Pollution is unjust and is caused by our success as a species.  Racism is unjust and that's why we will perform Charles Mingus' proclamations of righteousness, and why we write our own music.  It is time for individuals to speak in whatever way they can.  We speak musically.  We have to take our place in the ferment of our times and we cannot always be nice about it; we need to stay in the fray; we need 'mean chemistry.'"
The February 10th concert will feature music by Charles Mingus including Moanin' and Mingus' exquisite homage to his compositional mentor, Duke Ellington's Sound of Love. Also included in the program will be a new composition by community members and volunteer trombonists, Doug Bethel and Zack Beamer, and a new tune by D'earth entitled Never Not!" 
"I think I went 'smooth jazz' on this one," D'earth chuckled.
Also, stay tuned for the UVA Jazz Ensemble's spring matinee concert on April 15th, Sunday afternoon.  That concert will feature vocal jazz with headliner Stephanie Nakasian leading an internal-residency with student vocalists.  The vocal jazz concert will be presented in partnership with Jazz4Justice, a non-profit program that mobilizes local legal communities around university jazz concerts (over 40 concerts since 2001) to raise money for legal-aid, an important and threatened resource giving economically challenged families and individuals access to the courts.
Old Cabell Hall is located on the south end of UVA's historic lawn, directly opposite the Rotunda (map). Parking is available in the Central Grounds parking garage on Emmet Street, in the C1 parking lot off McCormick Road, and in the parking lots at the UVA Corner. 
Tickets for the UVA Jazz Ensemble's February 10th winter concert are $10 for the General Public /$9 UVA Faculty & Staff/ $5 students/ Free for UVA Students who reserve in advance.  Tickets can be purchased at the UVA Arts Box Office by calling 434.924.3376 or visiting www.artsboxoffice.virginia.edu.  Tickets will also be available at the door one hour prior to the concert.
All events are subject to change.