Technosonics XV: Found Sound
Concert II: Sounds Around: Featuring Guest Composer Annie Gosfield
November 7, 2014 - 8:00pm
Free - An Arts Enhancement Event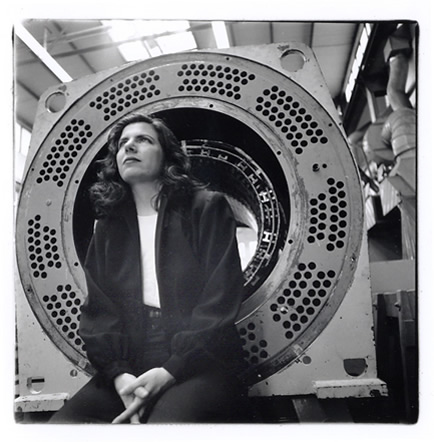 The University of Virginia McIntire Department of Music and the Virginia Center for Computer Music present TechnoSonics XV: Found Sound on Friday November 7 2014 in Old Cabell Hall.  TechnoSonics is an annual themed festival that showcases digital music and intermedia and brings high profile outside performers and composers to collaborate with UVA composers and faculty performers. TechnoSonics XV: Found Sound is supported by the Office of the Provost & the Vice Provost for the Arts.
For our fifteenth annual TechnoSonics Festival, we focus on the role of "found sound" in electroacoustic music. This combines the use of humble everyday materials and environmental sounds with technological processing, and involves multimedia as well as purely musical performance. Found sound as a musical resource has a long history, from the early twentieth century, when it was used by composers such as Eric Satie, Arthur Honegger, and George Antheil, whose Ballet Mécanique had instruments including three airplane propellers and seven electric bells. John Cage used all kinds of found sounds in his work, ranging from radio frequencies to a cactus. As digital transformation of sound became possible, a host of composers have created compelling music using the sounds of everyday obejects.
This concert, the cornerstone of the two day festival,  features not only the works of UVA faculty and guest composers, but also works from important representatives of the wider compositional community. The festival will also incorporate a second concert featuring music by our outstanding graduate student composers, interleaved with music by our visitors and other composers whose practice is informed by the use of found sound.
Our special guests for this concert include internationally acclaimed composer Annie Gosfield  who will perform her own work.
Press for Annie Gosfield:
"...a major figure of the downtown scene with pieces that use nonmusical sounds (warped records, satellite signals, and more) in a strikingly expressive manner" (The New Yorker)
"An emotional highlight was Annie Gosfield's 'Long Waves and Random Pulse' for violin and jammed radio signals... The sound palette created by these multiple layers was astonishingly rich, and at times the virtuosic violin line above the repetitive radio signal patterns took on the tried and-tested beauty of a Vivaldi concerto." (The NY Times)
Garrett Mendelow, an American percussionist based in Germany will perform Matthew Burtner's EcoTones for solo percussion and interactive electronics, as well as composer and shakucahi artist Kojiro Umezaki of Yo Yo Ma's Silk Road Ensemble, who will present music by Ted Coffey. Our own excellent UVA faculty performers will also perform.
Old Cabell Hall is located on the south end of UVA's historic lawn, directly opposite the Rotunda.  (map) Parking is available in the central grounds parking garage on Emmet Street, in the C1 parking lot off McCormick Rd, and in the parking lots at the UVA Corner.  Handicap parking is available in the small parking lot adjacent to Bryan Hall.
PROGRAM AND PERFORMERS SUBJECT TO CHANGE.
An Arts Enhancement Event supported by the Office of the Provost & the Vice Provost for the Arts.